"I have always had wanderlust. As a child, I dreamed of travel, of bringing home what I found from worlds far from home."
The guiding force behind Ceylon et Cie, founder Michelle Nussbaumer has always had a passion for creating timeless spaces inspired by the furthest reaches of the globe. Through Ceylon et Cie, Michelle and her team of visionaries are turning Old World inspiration into modern, soulful interiors for youthful spirits. From antique textiles to contemporary touchstones, interior design at Ceylon et Cie is often a menagerie of pieces that together create a one-of-a-kind experience as unique as the individuals they're designed for.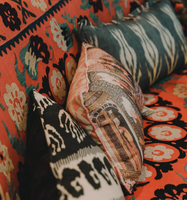 The interiors we design are not only inspired by the unique clients we have the pleasure of serving, but are also inspired by life. We're passionate about setting the stage for adventurous lives to be lived.
At Ceylon et Cie, exquisite form meets deliberate function. Every space is meant to be lived in, and we strive to ensure that it doesn't look like a designer just stepped out of the room. Family is a fundamental influence on our entire team, and that is evidenced in our design philosophy.